Whether it's to Wall Street, the corner office, a startup, alternative energy companies, or non-profit organizations, the Cox School of Business at Southern Methodist University is committed to the development of businesswomen who will become the world's leaders. In an interview we conducted with them, SMU Cox chose to highlight the unique opportunities and organizations at Cox that help lend support to female MBA candidates throughout business school.
What is a unique aspect of the Cox business program you would like to highlight?
In recent years, the number of women in the Cox Full-Time MBA program has increased 15%. Our commitment to enrolling and supporting amazing MBA women is a lasting initiative for the Cox School of Business.
In recent years, the number of women in the Cox Full-Time MBA program has increased 15%. Our commitment to enrolling and supporting amazing MBA women is a lasting initiative for the Cox School of Business. Something that Cox is particularly proud of is the earning potential of our women compared to our men. The national average of MBA graduates shows that women earn anywhere between 80-90 cents to the men's dollar, which translates to 10-20%! At Cox, the difference is less than .3%, which rounds to the same penny when looked at overall yearly salary. For the class of 2018, 93% of our female MBA graduates had accepted full-time roles by graduation and out-earned their male classmates with an average salary of just over $116,000 and an average signing bonus of $21,750! At Cox, we take pride in breaking down barriers for all of students.
How does this female-focused feature of your program benefit students?
Cox is a proud to be a Forté sponsor business school. We are now entering our tenth year of partnership with the Forté Foundation, an incredible organization with which we share a common vision of providing resources and opportunities for women in business. Through this affiliation, all MBA women at Cox are able to jump-start their career search, a broad national network, and qualify for unique scholarships for attending business school. Women at Cox are also encouraged to attend the valuable conferences the organization supports, including the annual Forté MBA Women's Conference to tap into those resources. In both 2016 and 2017, women who attended the conference left the conference with an internship offer, all before they even began their MBA program!
In the past two years, 62% of the female MBA student body were awarded Forté Fellow status as part of their merit-based scholarship, which accounted for nearly 3 million scholarship dollars!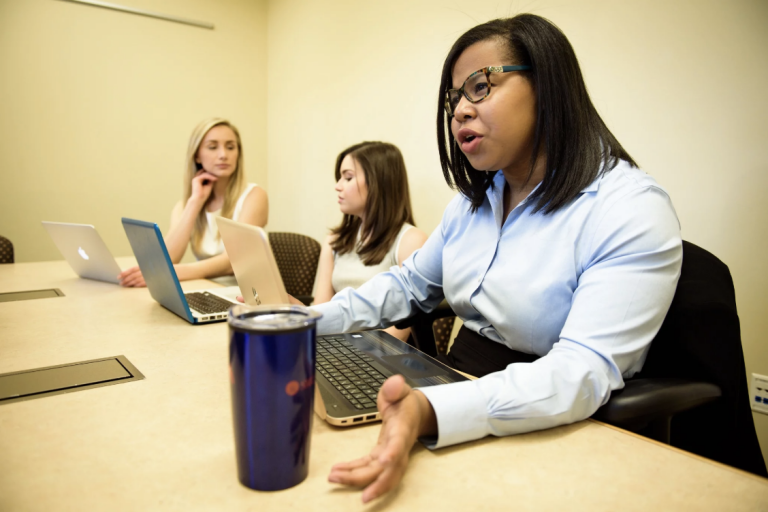 How does this feature illustrate Cox's values?
Hearing the experiences of successful women in the Dallas business community is just one of many ways that Cox seeks to support our female students, staff, and faculty. Recently, the Cox School, in partnership with the National Society of Black Sports Professionals, welcomed Cynthia "Cynt" Marshall, newly appointed CEO of the Dallas Mavericks, for an intimate evening of conversation on her vision for building a culture of support and exclusivity and advancing within the organization. Over 250 guests attended the event, including current students and incoming Cox graduate students.
While at Cox, women from all of the graduate business programs are encouraged to participate in the Women in Business Club, making this student- led organization one of the largest at Cox. The Women in Business Club promotes professional and personal development through social and networking events, guest speakers, and mentoring opportunities for young girls in the area. This spring, WIB hosted Anne Chow, President of National Business for AT&T, for a Lunch and Learn, where she shared her business school experience and the impact on her impressive career.
Why is this feature an integral aspect of your program?
The George W. Bush Presidential Center Women's Initiative is another unique opportunity available to students at Cox to lend agency to women around the world. Designed to enhance the leadership skills of women around the world with an initial focus on women in the Middle East and North Africa, the Bush Center Women's Initiative allows students to complete a "real world" research project with last impact during the academic year. One student working with the Initiative described her experience as "rich and meaningful, ultimately exposing me to the many challenges that the Bush Institute faces when taking on such ambitious international work." Fellowships culminate with a presentation of research findings as well as prescriptions of possible solutions to help move forward. Students that are awarded fellowships are compensated during their research as well, and are available to any student interested in advancing female agency around the globe.